About this website
This website is created as a resource for self help tools for people who are looking for ways of dealing with the current changes in the world.  Its purpose is to provide support to seekers struggling with relationship issues, self-worth, confusion, trust, climate and environmental changes, natural disasters, or socio-political or monetary reform.  The simple application of astrological principles and natural laws are powerful means to master these stormy times of change.
About myself
I support sustainable tourism and responsible behavior – including towards ourselves.  And I do believe in nature's laws.
Traveling has been one great way for me to quench my curiosity about foreign cultures and humanitarian aspects of life. I am strongly influenced by Mesoamerican and Buddhist teachings and promote a conscious, holistic lifestyle.
The engine that drives me through life is my constant urge to finding practical answers, learning new things, seeking to understand and making practical sense of things; as well as to repair, improve and harmonize situations. I consider myself a peace maker with a very strong sense of justice.
In my twenties, I became very interested in natural cosmetics and healing modalities, wellness and honest, straight-forward food and its effect upon our wellbeing.  On the mental level, I got magically pulled into astrology, psychology, quantum physics and alchemy.
My vocational background includes business administration and management in logistics.  In 2008, I founded Project Mayan Encounter to operate eco-cultural tours that include wheelchair travelers.  I am a CBEST educator and a Level II NCGR-PAA certified astrologer, starting my Level III certification program in May 2019.  Besides this, I am a member of the Southern California Astrologer Network (SCAN), the National Council on Geocosmic Research-Professional Astrologer Alliance (NCGR-PAA), and the International Society for Astrological Research (ISAR).
Having mastered numerous of my own life quests equips me to support fellow seekers who may currently struggle with challenges such as:
Family and relationship problems
Economic hardship
Health crises
Belief issues/sense of purpose
Spiritual or mental growing pain
Rejection
Abandonment
Self-doubt
Control issues
About Project Mayan Encounter
When I arrived in the Riviera Maya first in 2003, there was not much offered for older folks or people with physical challenges who want to spend some quality leisure time. Based on a Census in the USA, the 50+ population was expected to reach 100 million by 2012. This did not even include Canada or Europe. I found there was a definite need to work on inclusion, and launched Project Mayan Encounter in 2008. Having been on the road as a tour guide myself, I know how tight itineraries are usually scheduled, specially with large groups of 50 or 60 travelers.
Sometimes you may be wondering whether you are on vacation or in a race. I also thought it must be intimidating for someone with physical limitations to watch others zooming across a cenote on a zip line or enjoy other adventure activities. So in collaboration with some environmentally passionate, multilingual guides in the Riviera Maya, I decided to fill the need and designed relaxed adventure trips for environmentally-conscious people.
In the process we have added other useful activities, such as alternative medicinal treatments, or curriculum-based itineraries to accompany studies of language, history, geography or social sciences. It is also refreshing to see that in the recent years it has become much easier to rent assistive technology for mobility impaired travelers, such as electric scooters or beach wheelchairs.
In 2012, we added holistic retreats to the program that are co-created with professional healers. They combine wellness & eco-tourism, to add on to the already healing effect that Mother Nature has on us.
All events are customized and private unless requested otherwise.
We really enjoyed the tours
We really enjoyed the tours. It was like going with a friend. We really appreciated all the little details like the wheelchair, revised wheelchair and umbrellas. If you ever come through Chicago we would love to see you again. I will definately recommend you to anyone I know going to Mexico to see the Mayan ruins.
Joe and Cyndi
Coba & Chichen Itza, June 2009
Thanks
…Thanks,
I just remembered I have this great photo – Thanks for a really wonderful tour!
Dominic
Sian Ka'an, April 2009
Es war herrlich
Liebe Stefanie,
ich schicke dir hier die versprochenen Bilder vom Strand.
Hoffe sie gefallen dir.
Wir müssen immer noch an diesen wundervollen Urlaub denken. Es war herrlich. Dank so herzhafter Menschen wie dir.
Schicken herzliche Grüße aus Deutschland.
Various day trips, Riviera Maya, August 2011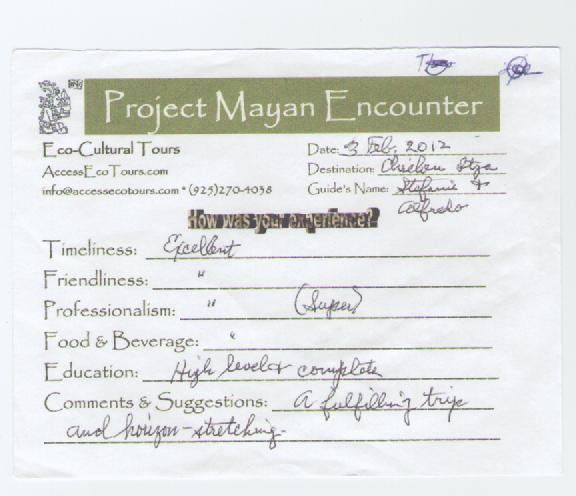 Wish I was back in Cozumel!
…well, now that I"m back at work, Cozumel seems like a dream!
you are right about the location of the restaurant (and the fact that we were quite hungry by then), and the peacocks, and dancers. unfortunately, we were not sitting near the area where they were making the tortillas and bbqing the meat and, unfortunately, no one told us about it. someone in our group finally noticed it after we had already eaten most of our meal. i, of course, did manage to eat one anyway…and it was the best part of the lunch!
i forgot to thank you also for the bracelet ~ what a nice souvenier of our day…and also for the snacks and that wonderful marzipan. i looked for marzipan in Cozumel…thought it would be a nice treat to share back at home but coudn't find it. they didn't even have it at the Megamart!
i've been freeezing cold since returning home…wish i was back in Cozumel!!!
have a great week….
Liz
Chichen Itza, November 2009