About myself
I support sustainable tourism and responsible behavior – including that towards ourselves.  The engine that drives me is my deep curiosity about life and the resulting urge for finding practical solutions.
Traveling has been one great way for me to quench my curiosity about foreign cultures and humanitarian aspects of life. I am strongly influenced by Mesoamerican and Buddhist teachings and promote a conscious, holistic lifestyle.
Living and traveling in other countries have not only provided me excellent opportunities to expand my language skills – but also to experience the culture on an intimate level.  One of the most rewarding tasks was building a home in the jungle in the Mexican Caribbean and turning it into a Bed & Breakfast Inn later on.
In my twenties, I became very interested in natural cosmetics and healing modalities, wellness and honest, straight-forward food and its effect upon our well-being.  On the mental level, I got magically pulled into astrology, psychology, quantum physics and alchemy.
My vocational background includes business administration, trade, logistics and International relocation.  In 2008, I launched Project Mayan Encounter and started operating eco-cultural tours that also include wheelchair travelers.  With the generous donation of a Braille printer by ViewPlus, I was able to set the ground stone for a school for the blind in Playa del Carmen, Mexico.
I am a CBEST educator and a Level II NCGR-PAA certified astrologer, a member of the Southern California Astrologer Network (SCAN), the National Council on Geocosmic Research-Professional Astrologer Alliance (NCGR-PAA), and the International Society for Astrological Research (ISAR).
We really enjoyed the tours
We really enjoyed the tours. It was like going with a friend. We really appreciated all the little details like the wheelchair, revised wheelchair and umbrellas. If you ever come through Chicago we would love to see you again. I will definately recommend you to anyone I know going to Mexico to see the Mayan ruins.
Joe and Cyndi
Coba & Chichen Itza, June 2009
Thanks
…Thanks,
I just remembered I have this great photo – Thanks for a really wonderful tour!
Dominic
Sian Ka'an, April 2009
Es war herrlich
Liebe Stefanie,
ich schicke dir hier die versprochenen Bilder vom Strand.
Hoffe sie gefallen dir.
Wir müssen immer noch an diesen wundervollen Urlaub denken. Es war herrlich. Dank so herzhafter Menschen wie dir.
Schicken herzliche Grüße aus Deutschland.
Various day trips, Riviera Maya, August 2011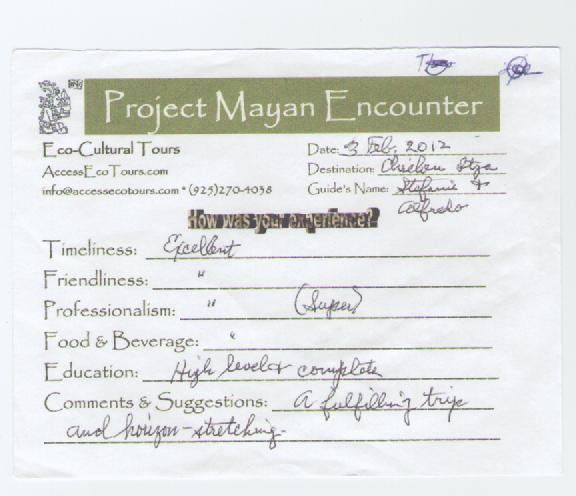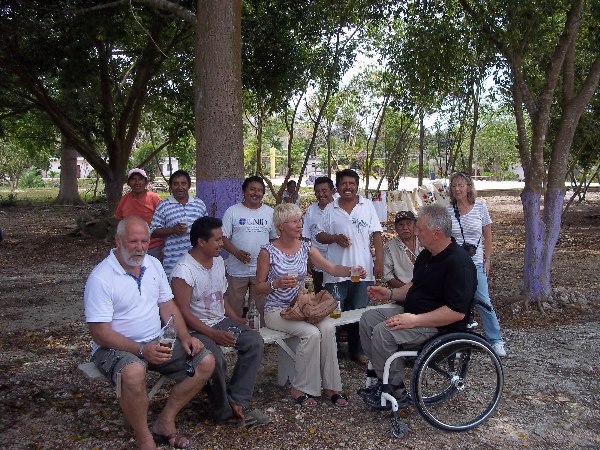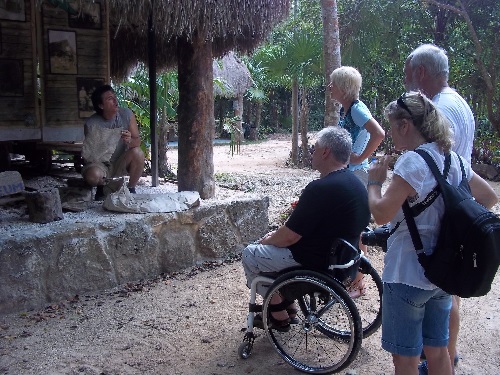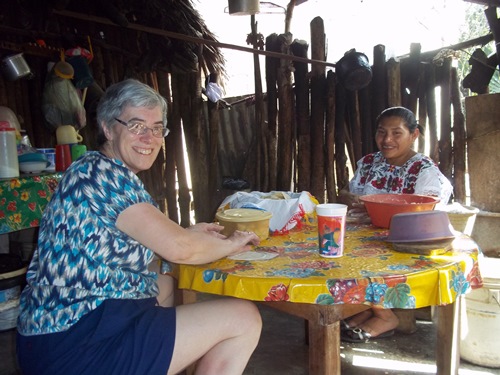 Wish I was back in Cozumel!
…well, now that I"m back at work, Cozumel seems like a dream!
you are right about the location of the restaurant (and the fact that we were quite hungry by then), and the peacocks, and dancers. unfortunately, we were not sitting near the area where they were making the tortillas and bbqing the meat and, unfortunately, no one told us about it. someone in our group finally noticed it after we had already eaten most of our meal. i, of course, did manage to eat one anyway…and it was the best part of the lunch!
i forgot to thank you also for the bracelet ~ what a nice souvenier of our day…and also for the snacks and that wonderful marzipan. i looked for marzipan in Cozumel…thought it would be a nice treat to share back at home but coudn't find it. they didn't even have it at the Megamart!
i've been freeezing cold since returning home…wish i was back in Cozumel!!!
have a great week….
Liz
Chichen Itza, November 2009