Tours Overview
Riviera Maya
Probably the most outstanding feature of the Riviera Maya is the Caribbean Sea with its various turquoise shades and white sandy beaches. If you like snorkeling or diving, you will love it here: The world's second largest barrier reef runs right along the coast.  But also the numerous cenotes (freshwater lakes and underground river system) are great for snorkeling and diving.
The variety of things you can experience here is almost unbeatable: From archaeological sites and rich history, charming Mayan villages, nature & wild life, culinary diversity to the cheerful people of today.
The Sian Ka'an Biosphere Reserve was declared a UNESCO World Heritage Site in 1987 and is a paradise for ornithologists. The Bacalar Lagoon is known for its seven different shades of blue and is a popular place for geologists to study the rare rock formations formed by photosynthesis.
Or are you ready for the island? Visit Cozumel – one of the five best dive sites in the world, or Isla Mujeres with its Caribbean charm, or the quieter islands of Contoy and Holbox.
The most famous archaeological site of the Yucatan Peninsula is Chichen Itza. It is considered one of the Seven Modern World Wonders and is a pilgrimage place for thousands of visitors for the equinoxes. The ancient city of Cobá, once an important trade hub, is situated in the middle of the jungle. The Tulum Temple was built right by the ocean and served as a calendar to indicate important dates.  The ruins of Ek Balam are lesser known, but you will be surprised about the excellent condition of some of the murals. A hot insider tip!
Project Mayan Encounter
When I arrived in the Riviera Maya first in 2003, there was not much offered for older folks or people with physical challenges who want to spend some quality leisure time. Based on a Census in the USA, the 50+ population was expected to reach 100 million by 2012. This did not even include Canada or Europe. I found there was a definite need to work on inclusion, and launched Project Mayan Encounter in 2008. Having been on the road as a tour guide myself, I know how tight itineraries are usually scheduled, specially with large groups of 50 or 60 travelers.
Sometimes you may be wondering whether you are on vacation or in a race. I also thought it must be intimidating for someone with physical limitations to watch others zooming across a cenote on a zip line or enjoy other adventure activities. So in collaboration with some environmentally passionate, multilingual guides in the Riviera Maya, I decided to fill the need and designed relaxed adventure trips for environmentally-conscious people.
In the process we have added other useful activities, such as alternative medicinal treatments, or curriculum-based itineraries to accompany studies of language, history, geography or social sciences. It is also refreshing to see that in the recent years it has become much easier to rent assistive technology for mobility impaired travelers, such as electric scooters or beach wheelchairs.
In 2012, we added holistic retreats to the program that are co-created with professional healers. They combine wellness & eco-tourism, to add on to the already healing effect that Mother Nature has on us.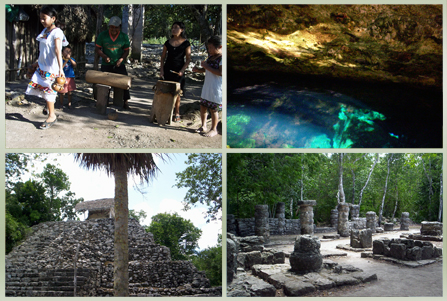 Coba – Mayan Community – Cenote
8:00 am pick up at hotel.
Visit archaeological site of Coba. Yucatecan-style buffet lunch. Visit Mayan community.
Visit Cenote (optional)
4:30 pm arrive at hotel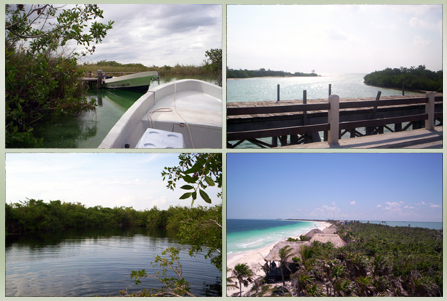 Sian Ka'an Biosphere – Boat Tour
7:30 Pick up at hotel
Visit Eco Center
3hour boat tour(shared),float in canal
Lunch at Eco Center
Free beach time
Visit cenote
5:30 pm arrive at hotel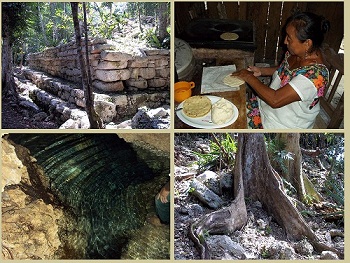 El Naranjal Mayan Community
8:00 am pick up at hotel
Visit El Naranjal.  Possible activities depending mobility and preference: Guided cave hike, swim in cave cenote, guided visit of archaeological site and nursery, jungle walk, purchase of local arts & craft. Includes Mayan-style lunch. Tricycles available to get around.
5:00 pm arrive at hotel.
Or compose your own itinerary:
Coba – Sian Ka'an – Felipe Carillo Puerto – Bacalar – Kohunlich – Dzibanche – Chacchoben – Chichen Itza – Valladolid – Tulum – Muyil – Yal Ku – Playa del Carmen – Cozumel – Puerto Morelos – Ruta de los Cenotes – Isla Mujeres – Holbox
Pick your theme:
Archaeology – Culture – History – Aquatics – Culinary – Language Study – Voluntourism – Fauna & Flora – Geology, or a blend of everything!