A recap of some of the first trips that I have led in collaboration with AdaptA
AdaptA are headquartered in Queretaro and specialize in ADA compliant architecture and tourism.  I have met with their team in the Riviera Maya to build this new relationship, and renting their assistive technology has been a huge help.  The following is a recap of the recent tours I led for them as a freelance guide in German.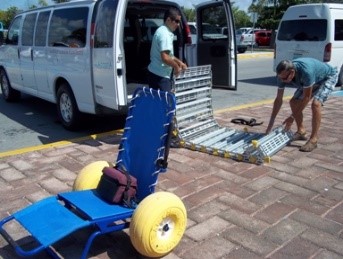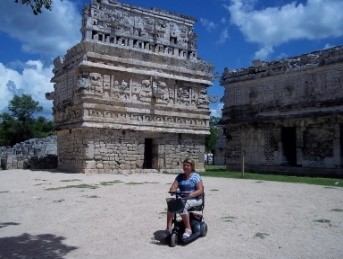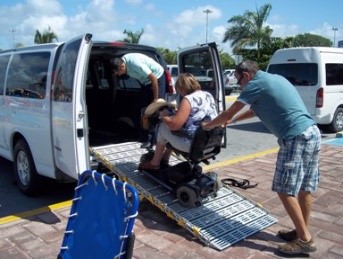 We picked up our German couple at the Cancun airport with a fully accessible van.  I checked them into their wheelchair accessible room at the Barceló Costa Cancun [now Occidental Costa Cancun] and stayed for an orientation.  For their entire two week stay, they rented a beach wheelchair and electric scooter from AdaptA.
They had a day to relax before our private, escorted tours started.
Our first trip took us to the Xcaret theme park.  Being a backroads fan, it's a destination that I usually don't take people to, but Xcaret definitely has its good sides.  For one part, this theme park is very accessible to wheelchair travelers.  We saw at least ten other wheelchair visitors that day.  Another plus is that they showcase various other parts of Mexico, and their night show is just awesome.   And lastly, as an environmentalist and cultural aficionado, I'm fond of their projects related to fauna, flora and special cultural festivities.
Next we visited Chichen Itza. We took the e-scooter, which came in handy because it was so much easier to manage the small pebbles and roots with the thicker tires.  We had lunch at the garden restaurant of the Mayaland hotel.  It's basically the same delicious buffet as in their popular courtyard restaurant, but the courtyard restaurant is more lively and vibrant.  Additionally, they have set up a bbq station and women are handcrafting tortillas in the courtyard. To please the eye, gorgeous peacocks are strolling around.  And frequently a dance ensemble performs the yucatecan jarana dance, where they balance a tablet with bottles on their head while dancing.  With all this, you probably imagine the noise level in the courtyard as opposed to the peaceful garden setting.
It happened to be whale sharks season.  From about June to August each year, these peaceful giants are migrating to feed in front of the north tip of the Yucatan peninsula.  Our travelers were eager to experience this and I set them up for an extra tour during their free days.  Even though they were consolidated with others in a regular passenger van, their day turned out to be perfect and they were happy.   This time they took the beach wheel chair for the passage through soft sand to reach the boat.
Our last trip was a combination of visiting the archaeological site in Tulum in the morning  and the Xel-Ha aquatic park in the afternoon. As mentioned earlier, the nice thing about these big theme parks like Xcaret and Xel-Ha is that they are so well prepared for wheelchair users.  This includes restaurants and bathrooms. At the entrance, we were handed a specialized map of Xel-Ha for wheelchair users.  We took the 'train' to the entrance of the underground river, and transferred our traveler from her scooter onto a floating tube to enter the water.  But she preferred to slip out after a while and just floated in her life vest, as she did in the underground river in Xcaret before.  There is a hydraulic chair-lift installed,  but we exited at a different location and transferred to the scooter again.  For about $18 – $20 per day, visitors can rent beach wheelchairs in Xel-Ha also, but it may make more sense to rent one from AdaptA, because you can use it at the beach of your hotel during your entire stay.  However, check with your hotel since a lot of hotels have their own beach wheelchair now that they let their guests use for free.
Since tourism is such an important economic factor in the Riviera Maya, a lot has been done to accommodate mature travelers and those with special needs.  Luckily, Mexican government sees the necessity of catering to the baby boomer population.  I think they see the sharp contrast to the impact of young 'Spring Breakers' or the even the more problematic Rave tourists (eg. for the BPM Festivals).  I'm dedicated to lending a hand to those who need so that they can experience the beauty of the Yucatan peninsula while blending in respectfully with the environment and preserving local fauna, flora and communities.  Since launching Project Mayan Encounter in 2008, I can proudly say that everyone I have worked with has been so very supportive in accommodating my travelers – be it with manpower or props.  But now that I rent equipment from AdaptA it has become much more comfortable for everyone.
Find inspiring (or even encouraging) pictures of the above tours here:
Also check out my standard tours here, and feel free to email me if you'd like to experience something new!