TOUR REVIEW: Sailing Tour with Catamaran Raiatea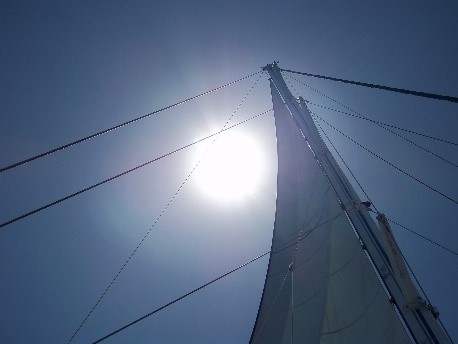 [March 2012]  I have just tried a new tour for my travelers: a sailing trip with the Raiatea, the largest catamaran in the Caribbean.  The tour starts in Puerto Aventuras, and transportation from and to your hotel can be arranged.  There's an awesome snorkel segment at the great barrier reef, and a visit of the archaeological site in Tulum with some chill time on the beach.
The staff said that there are always people who prefer to to stay on board and skip the guided tour of the Tulum ruins because they had visited them previously.
Although I have seen the ruins a gazillion of times, I went along in order to check out the overall accessibility for wheelchair travelers (see info below).  Our INAH-certified guide Erick managed to impress even me with his unique, well-researched and passionate interpretation of the site and the Mayan culture in general.  The tour includes an open bar, delicious home-made ceviche (freshly marinated fish with diced tomatoes, onions, lime and cilantro), guacamole, chips, salad, pasta and sandwiches.  Snorkel gear is also included.
Extra information for wheelchair travelers:  This tour is only partly accessible to wheelchair travelers and it's best to use a small folding wheelchair.  A little bit of adventure spirit is helpful, because if you need to use the toilet you will be helped down into the boat's body by manpower, and accommodated in the restroom. There is one toilet each for women and men, and the deck openings are about 80 x 80 cm wide (30 x 30 inches).  There is a ladder (ca. 1.5 m, or 5 ft), and the wheelchair could be brought down first, and then the person could be helped down and transferred to the restroom.  The way up involves manpower also, and the staff is super helpful.  Wheelchair users take the catamaran back to Puerto Aventuras because the transfer part to the shore in a smaller boat, as well as the beach passage are too difficult.
The people who do visit the ruins, will be brought back to Puerto Aventuras (or their hotel) in air conditioned vans.
Check out pictures on Project Mayan Encounter's Facebook page.  The price is $110 per person ($70 per child) from Puerto Aventuras, and is about 6-7 hours long.  Please email me to reserve a tour.
~